A Life No One Will Remember. A Story You Will Never Forget.

France, 1714: in a moment of desperation, a young woman makes a Faustian bargain to live forever—and is cursed to be forgotten by everyone she meets.
Thus begins the extraordinary life of Addie LaRue, and a dazzling adventure that will play out across centuries and continents, across history and art, as a young woman learns how far she will go to leave her mark on the world.
But everything changes when, after nearly 300 years, Addie stumbles across a young man in a hidden bookstore and he remembers her name.
300 Years of Addie LaRue aren't enough.
No one really needed to convince me to read this book, as I was already a fan of V.E./Victoria Schwab. Nonetheless, fellow readers could not stop telling me about it and praising this story. Finally, I get the hype and fell for this extensive but not lengthy book. I listened to the Macmillan audio book but also had the pleasure to take in the beautiful illustrations within the anniversary edition. I can absolutely recommend both versions of this story. The only flaw I see in it is the unused potential – both in the characters and the century spanning story. It did – nonetheless – not take from the emotional experience that this book already is.
As a fan of historical fiction who barely reads any, this book was a perfect fit.
Our protagonist is born in the late 17th century, so we experience moments in all the following four centuries. Most scenes take place in 2014, when Addie meets Henry and is remembered for the first time for 300 years. We, nonetheless, get intense scenes during her lonely years and meet many of her companions. From the very first chapter, V.E. Schwab made us feel her abandonment, her curse, but also her resilience and strength. Nevertheless, she surely was not the only intriguing character in this book which resulted in a entertaining, seductive tension.
Given the magic within this story, a curse or rather a deal made with a God or demon, many surprises were expected. Already caught by the narrative, I couldn't wrap my head around the contemporary happenings but enjoyed them with every ounce of my body. I had some wild theories that I would have loved to see play out. But I wasn't disappointed by the way the author imagined Addie's story after all. I won't go into details because these extraordinary twists are what makes this book that special, but I especially loved the bittersweet ending.
In conclusion
I was sure to love this book before I started reading it. Nonetheless, I was surprised of the intensity of feelings it sparked in me. The complex characters let us explore their long, twisted relationships with much joy and excitement. I was caught from the first to the last page and am still enchanted by this tale.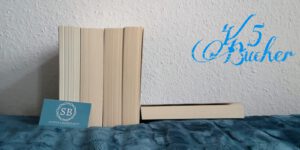 ---
The author:
VICTORIA "V. E." SCHWAB is the #1 New York Times bestselling author of more than twenty books, including the acclaimed Shades universe, the Villains series, the City of Ghosts series, Gallant and the international bestseller The Invisible Life of Addie LaRue. Her work has received critical acclaim, been translated into over two dozen languages, and optioned for television and film. First Kill – a YA vampire series based on Schwab's short story of the same name – is now a Netflix series. When not haunting Paris streets or trudging up English hillsides, she lives in Edinburgh, Scotland, and is usually tucked in the corner of a coffee shop, dreaming up monsters. Source