Cas Lowood has inherited an unusual vocation: He kills the dead.

So did his father before him, until he was gruesomely murdered by a ghost he sought to kill. Now, armed with his father's mysterious and deadly athame, Cas travels the country with his kitchen-witch mother and their spirit-sniffing cat. They follow legends and local lore, destroy the murderous dead, and keep pesky things like the future and friends at bay.

Searching for a ghost the locals call Anna Dressed in Blood, Cas expects the usual: track, hunt, kill. What he finds instead is a girl entangled in curses and rage, a ghost like he's never faced before. She still wears the dress she wore on the day of her brutal murder in 1958: once white, now stained red and dripping with blood. Since her death, Anna has killed any and every person who has dared to step into the deserted Victorian she used to call home.

Yet she spares Cas's life.
Kendare's first publication, my second encounter
Ever since reading Kendare Blake's Three Dark Crowns series, I had this book on my shelf. I rather imagined it to be for a younger audience. In the end, it turns out to be no less brutal than my first read books by the author. And I loved every tiny bit of gore and horror in it. This ghost story surely fits in the pre-Halloween vibe that I have been looking for. Cas and Anna truly gave me some goosebumps moments as much as a coming-of-age and first-love story.
They rationalised their fears away. People shouldn't do that. – page 9
Full of magic but still down-to-earth
This urban fantasy story has amazing and intriguing magical elements. It begins with Cas on a hunt for a hitchhiker ghost. Thus, we can witness his ordinary doing and his dealing with the supernatural. Nonetheless, his life is not too different from those of the readers. Done with one job, he moves to a new city and has to attend classes at a new school. There, he does not show the known patterns of shyness or insecurity, but solely focuses on his next job and research. Nonetheless, we feel closer to him through these daily responsibilities. Having lost his father, he is also very close to his mom. This gave us very enchanting and moving moments that present their closeness. The author also gave us with some more hilarious, but no less touching, scenes when Cas befriends some mismatching locals and realizes that he grows fond of them.
'You know better than that, Mom,' I say. 'It's only other people who think you can't kill what's already dead.' – page 23
Teamwork makes the dream work
Although we learn early on how independent, brave, and professional Cas is in his research, engagement with other people, and the hunt itself, this book is all about friendship. One could even go that far to state it is about questioning your own norms and the expectations one puts on oneself, admitting harsh judgment and mistakes. For that very reason, this story surely has a coming-of-age arc, including Cas' first love and his first proper friendships. I loved how the author built up three-dimensional characters that would not serve one sole function but act in their own way. We were afraid for them, not solely for Cas' sake but their own. And we loved their willfulness to fight for each other, especially when facing an unknown danger that will also freak out the readers (especially at the end of chapter 20).
I look at him fondly. The expression he wears is sheer determination. Thomas is absolutely not naturally brave. Which makes his bravery all the more impressive. – page 342
In conclusion
I devoured this book as it was easy to read but also highly entertaining and even a bit frightening. I'd not advise readers under 15 to read this one but would recommend it to everyone else—especially around Halloween. This coming-of-age story is moving for its focus on friendship, first love, and family, but likewise intriguing for its scary moments and supernatural elements.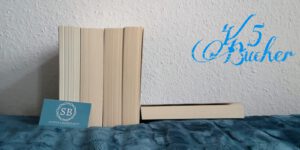 ---
The author:
Kendare Blake holds an MA in creative writing from Middlesex University in northern London. She is the critically acclaimed author of Anna Dressed in Blood, Girl of Nightmares, and Antigoddess. She lives and writes outside of Seattle, Washington. Source