Ben survived freshman year of college, but he's feeling more stuck than ever. His classes are a slog, his part-time job working with his father is even worse, and his best friend Dylan's been acting weird for weeks. Ben's only real bright spot is his writing partner Mario, who's been giving him a lot of Spanish lessons and even more kisses. Mario's big Hollywood dreams make Ben start to dream bigger—and the choices he makes now could be the key to reshaping his future. So why can't he stop thinking about a certain boy from his past?

Arthur is back in New York City for the first time in two years, ready to take the theater world by a storm as the world's best . . . intern to the assistant of an off-off-Broadway director. Of course, it sucks to be spending the summer apart from his sweet, reliable boyfriend, Mikey, but he knows their relationship is strong enough to weather the distance. Which is why it's no big deal when his ex-boyfriend Ben stumbles back into the picture. And it's definitely fine that Ben's blissfully happy with some mystery boy. First loves are special, but it's way too late for what-ifs. Right?

Even as the boys try to shake off the past, they keep running into each other in the present. Is this the universe trying to tell them there's a do-over in their future?
If I could tell her…
And him. And all people out there. Well, I just gonna do exactly that. Although I feel like words cannot fit the emotions I experienced while and after reading this sequel. The first book got me hooked with the very first page and made me fall in love with these two protagonists, their way of seeing each other and the world around them. I got to read about messed-up dates, romantic firsts, heart-breaking separations… and now I did it all over again. Because I loved every second and page of it. Therefore, my expectations for this new book by two of my favorite authors, who are one of my favorite writing teams, were immensely high. But Becky and Adam surpassed them.
"It'll be fun! Universes colliding! You know, I actually think you guys will hit it off. You have a lot in common."
"We do?"
"Well, you've got me," I say. "And I'm a lot."
Turns out, Ben's startled laugh is still one of the best sounds on earth.
– p167f.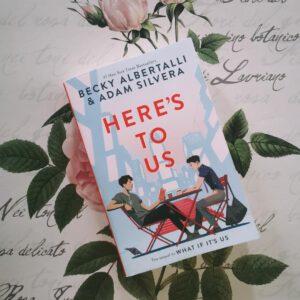 Back in the same city, Ben and Arthur surely aren't the same as two years ago. There moved on to other partners – though not completely official ones. They lost contact for a while but did not stop thinking about each other for sure. It felt genuinely relieving to see them catch up on their lives and harmonize with each other again. Nevertheless, they remember what went wrong the last time and they are happy in their individual new relationships. It would have been easy to make their new partners insufferable, but the authors choose to give us authentic and likeable, even adorable characters to cheer for. I fell in love with Mario and Mikey just like Ben and Arthur did. That's what makes this reading experience more tense but enjoyable at once. We got to love the moments of our dear protagonists together, but we could fancy all other scenes as well.
Happiness is tricky when it comes to the person who used to make you happy.
– p190
Not only the characters involved in this love… square triangle (or whatever) were genuinely fantastic. Another character, who would call himself part of the love chaos, cheered up literally every scene he was in. I loved seeing, reading, hearing, and imagining Dylan again. He's surely the most hilarious and fun character I've ever read! His name game is strong, his puns are entertaining, and his whole being is all one can which for as a best friend. He's the most supportive side character and granted once again with an amazing individual story while the book continues.
But Mario's the one carrying Ben's dreams over the finish line. I may have been Ben's first draft, but Mario's his hardcover.
– p307
I could probably go on talking about this book for hours. To be fair, I'm torn between chatting about it all the time and just enjoying it in silence. For sure, my cheek muscles became well-trained during these 480 pages. The authors gifted us with another heart-warming, absorbing, and realistic as much as romantic story stocked with big moments and small details, wonderful parallels to the first book, and hoped-for musical theater allusions.
Last words
I could not have wished for a better, more intriguing, or entertaining sequel to the first book who already convinced me of these two authors. I loved every page of it thanks to their amazing characters and would love to read more of them, if that did not mean giving their drama another do-over. And here's a big NO to that. Let them be happy ever after but give us more of your fantastic teamwork!

---
The authors:
Becky Albertalli is an American author of young adult, romance, LGBT, and coming of age novels. Some of her most prominent work and contribution to the film industry with her book titled Simon vs. the Homo Sapiens Agenda, which was adapted into the 2018 film Love, Simon and also inspired the spin-off television series called Love, Victor. source

Adam Silvera is the #1 New York Times bestselling author of Infinity Reaper, Infinity Son, They Both Die at the End, More Happy Than Not, History Is All You Left Me, and—with Becky Albertalli—What If It's Us and Here's to Us. All his novels have received multiple starred reviews. He worked in the publishing industry as a children's bookseller, community manager at a content development company, and book reviewer of children's and young adult novels. He was born and raised in New York. He lives in Los Angeles and is tall for no reason. source