The squad you love is out of time. Now in paperback, this is the thrilling finale in the epic, best-selling Aurora Cycle series about a band of unlikely heroes who just might be the galaxy's last hope for survival.

Is this the end?
What happens when you ask a bunch of losers, discipline cases, and misfits to save the galaxy from an ancient evil? The ancient evil wins, of course.
Wait. . . . Not. So. Fast.
When we last saw Squad 312, they were working together seamlessly (aka, freaking out) as an intergalactic battle raged and an ancient superweapon threatened to obliterate Earth. Everything went horribly wrong, naturally.
But as it turns out, not all endings are endings, and the team has one last chance to rewrite theirs. Maybe two. It's complicated.
Cue Zila, Fin, and Scarlett (and MAGELLAN!): making friends, making enemies, and making history? Sure, no problem
Cue Tyler, Kal, and Auri: uniting with two of the galaxy's most hated villains? Um, okay. That, too.
Actually saving the galaxy, though?
Now that will take a miracle.

Source, Buy, Excerpt (Ad)
An adventure through time and space
The last book's cliffhanger really left us hanging with several of our dear characters' lives at stake. But what would be a last book without all six of our chaos squad members? And yes, we've got one more book to enjoy their bravery, scold their goodwill, and admire their dimples… Well, at least Tyler's. And there is my major problem with this book. Tyler was on his own most of this book while the other characters are in different spaces and times.
The authors took quite a lot on themselves to give us an entertaining time travel storyline, but this was not what I had wished for. I admire and enjoy whenever and wherever they go if it keeps me clued to the story and shows me something new. I loved the alternative universes in the Illuminae series, I surely did. But this time… I am still confused and wondering if all that happened really makes sense.
Our characters grow once more on their own but also on each other.
Although separated, we got to experience smaller groups of our squad members. I especially liked Zila, Scarlett, and Fin's storyline because it turned out to be the most influential and interesting one. I surely enjoyed the threads coming together from all over the first to books to this finale. We also definitely had the most fun with the three of them, felt the most panic, and our hearts racing in joy for their awaking feelings. Although I did not count any of them to my favorite protagonists, I dearly loved them throughout this book. Despite their constant trouble, they surely were the most fun and delight of this installment.
Aurora and Kal had some unexpected but welcomed allies in their own story, but I felt their romance a little bit left behind and rather on the side. They were somewhat of the elder, married couple while the others offered us something to look forward to. Even Tyler got something going in this novel which made my heart skip more than a beat. But his storyline became lonelier with every passing of his chapters.
A finale to remember?
I still love this squad. I loved this book as well. But I also felt a lot of potential left unused. Unfortunately, I did not fancy the plot too much and left with few interactions between the whole squad, their usual quarreling did not keep me reading and reading without noticing. There were some well-written parts and scenes for sure. I love their togetherness and ever-growing admiration and love for each other.
Nonetheless, I don't think this book lives up to the earlier installments of the series, which is a pity! The finale battle of the second book made me way more anguish and fearing for the characters' survival than this one that rather resembled a deus-ex-machina and love-saves-the-day pattern. I was surprised by some turns during the book but not within the last 100 pages. In the end, I loved the characters and their interactions, loved their love for each other, but I am not fully convinced by this finale.
Conclusion
This final installment of the trilogy took us back to our favorite squad but also lacked a lot of the former joyfulness and sense of community. With our characters scattered through space and time, humor stood back against the seriousness of the final battle. Nevertheless, I was not completely drawn in by this time travel and deus-ex-machina solution to this whole twisted and tense dynamic of wonderful characters and the dangers they encounter and face for their loved ones and the whole universe.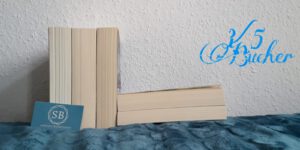 ---
The authors:
Amie Kaufman is a New York Times and internationally bestselling author of science fiction and fantasy for young (and not so young) adults. Her multi-award winning work has been published in 30 countries, and been described as "a game-changer., "stylistically mesmerising" and "out-of-this-world awesome". Amie lives in Melbourne, Australia with her husband and their rescue dog, Jack. Source

Jay Kristoff is the New York Times and internationally bestselling author of THE LOTUS WAR, THE ILLUMINAE FILES, and THE NEVERNIGHT CHRONICLE. He is the winner of two Aurealis Awards and an ABIA, was a nominee for the David Gemmell Morningstar and Legend awards, has been named multiple times to the Kirkus and Amazon Best Teen Books lists, and is published in over twenty-five countries, most of which h has never visited. He is as surprised about all of this as you are. He is 6'7″ and has approximately 13,030 days to live. He resides in Melbourne with his secret agent kung-fu assassin wife and the world's laziest Jack Russell. He does not believe in happy endings. Follow Jay: jaykristoff.com or @misterkristoff. Source