When Griffin's first love and ex-boyfriend, Theo, dies in a drowning accident, his universe implodes. Even though Theo had moved to California for college, Griffin never doubted Theo would come back to him when the time was right. But now, the future he's been imagining for himself has gone far off course.

To make things worse, the only person who truly understands his heartache is Theo's new boyfriend, Jackson. But no matter how much they open up to each other, Griffin's downward spiral continues. He's losing himself in his obsessive compulsions and destructive choices, and the secrets he's been keeping are tearing him apart.

If Griffin is ever to rebuild his future, he must first confront his history, every last heartbreaking piece in the puzzle of his life.

Source, Buy (AD)
After meeting the author, I was even more set on reading all his book.
And that is, although I know how emotional they make me most of the time. And I was certain that Adam Silvera's earlier books would even be more personal and heartbreaking. Nonetheless, I guessed that his first published books might not be up to his current skill of writing. These assumptions were surely confirmed, but I enjoyed this moving novel about grief and moving on nevertheless. It's a story about a relationship that was meant to be forever and needs to be humbled to enable our protagonist to move on after loosing someone loved.
I'm hit with a realization: the Theo you were with him isn't the Theo you were with me, and maybe that's okay. I've been so desperate to know who you were becoming, I never stopped to think about how everything that made you my favorite person could've changed. Maybe you didn't outgrow me; you just became someone else. It doesn't make me want to know the new you any less, but it makes me feel a little less worthless. – page 184
Although the story starts at a funeral, it will eventually become a tale of hope. For some, it might be hard to feel any connection to Griffin and his loss at this point. We have not been able to build any sympathy for him or get a glimpse at his relationship with Theo. Nonetheless, Adam made it "easy" for me to feel with Griffin after loosing someone he loved. He takes us back to Theo and Griffin's first admittance of their love and their first attempts at being together. With that too early death in mind, that is already heartbreaking. Being whipped away from easier times in "history" to "today" made me emotional from the start. I enjoyed Griffin's memories as much as the chapters that full-heartedly took us back to earlier days. Meanwhile, Griffin has to deal with the lost possibility of ever renewing his relationship with Theo in the contemporary action. Nonetheless, he has the opportunity to build on other people, not the least on Jackson, Theo's latest boyfriend Griffin was constantly jealous of.
If I can fly here for you, where will I go for me? – page 186
Adam tackles not solely the theme of grief with great care and depth. He also carefully and consistently adresses Griffin's OCD and struggle to let go of his glorification of Theo. I found this struggle highly realistic given his loss and their shared history. Others might critique Griffin's dramatized and naive behavior. I still found his reaction relatable and reasonable for a 17 years old. Other characters might stay rather flat. Given Griffin's (one could say) obsession with his idea of Theo, it rather makes sense for our first-person narrator (adressing his dead ex-boyfriend) to not pay too much attention to others. Therefore, Adam's manner of telling the story is consistent and touching at once. I was anticipating many of the things happening in the course of this story, but still enjoyed them. Only one threw me off a bit given the lack of hints earlier in the story. Nonetheless, I was happy with that development that helped Griffin fight his ticks and face a future without Theo.
In conclusion
After reading other books by Adam Silvera, this one certainly feels like one of his earlier, more personal ones. I related to our very young protagonist struggling with loss, grief, and an idealistic version of the lost person. The story took some surprising turns that eventually ended on a hopeful note that makes me recommend it to a variety of readers despite its potential to have been even more polished.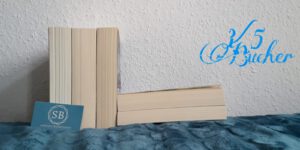 ---
The author:
Adam Silvera is the #1 New York Times bestselling author of They Both Die at the End, The First to Die at the End, More Happy Than Not, History Is All You Left Me, Infinity Son, Infinity Reaper, and—with Becky Albertalli—What If It's Us and Here's to Us. All his novels have received multiple starred reviews. He worked in the publishing industry as a children's bookseller, community manager at a content development company, and book reviewer of children's and young adult novels. He was born and raised in New York. He lives in Los Angeles and is tall for no reason. Q