Married to a ruthless prince…

For years, Max had to serve and obey the vicious magical nobles. Now he is one of them.
When the heir to the throne attacks him, Max accidentally responds with a lethal burst of magic. Max is certain he will be executed. But his power is too rare and precious for that…
Instead, the king forces him to become the boy he killed, taking on the identity and duties of the heir. That includes an arranged marriage—to the dangerously attractive Prince Camron.
Living a lie, Max knows he can trust no one. Not Camron. And definitely not Simion, a handsome, dragon-riding spy sent to test his loyalty.
As a deadly struggle for power begins and desire sparks, Max must protect his secret and his heart at all costs.

Source, Sample, Buy (AD)
Merlin and Arthur finally together – or not?
Once more I have to admit to not thoroughly reading the synopsis of this book before requesting it. All it took for me to be persuaded was magic, arranged marriage, m/m, prince, and spy. Therefore, the story really took me by surprise. I was amazed by Max' first troubles and his self-determined but surely dangerous reaction to them. Given my spare knowledge, I had no clue where this Story world take me. Nonetheless, and with every glimpse I got at the author's Instagram page, I became more excited to explore the story and the world. Magic is such a complex and variable topic that I was eager to see Ben Alderson's take on it.
Reminded of other favorite books
Starting this story shortly after rereading and watching Red, White, & Royal Blue, I mistook Max' discomfort for some unallowed sexual tension between him and the first prince we encountered. I simple mention this mistake to point to the fact that I was horrified by the outcome of their meeting. The fantasy in my head quickly turned into a nightmare that caught my full attention. From there, the story could go everywhere. I accompanied Max through several fast chances in his life and felt every breath of relief and recognition with him. And when there were finally some people seeing through the enforced facade, I indulged myself in these tingling scenes. But, as I was reminded of Sarah J. Maas' A Court of Thorns and Roses series next, I couldn't really trust any of the characters helping Max, no matter how much I begged for their truthfulness.
Nothing is certain, everything is possible
I surely enjoyed this first book in this new series. For me, it was all about finding the courage to stand up for oneself and learning who to trust. And about magic. I can't wait to experience morse of Ben Alderson's plot twists, his thrilling fights and more… intimate encounters between the characters, and his world building. Although I felt like sometimes loosing track of the temporal development within this book and missed some transitions, I quickly got back on track and was riveted to my seat.  And then this finale… I am so happy we got a good cliffhanger to confirm what I suspected. This was an emotional but not a worthy or satisfying finale fight to be THE finale fight. I'm really excited to continue this story and to accompany Max' on his future adventures.
In conclusion
My first book of Ben Alderson will surely not by my last. I enjoyed Max' story a lot, the deeply desperate and emotional moments as much as the tingling ones between him and his potential love interests. This narrative gave me chills and amazing vibes, which is the perfect combination to enjoy a magical, queer, and brave book.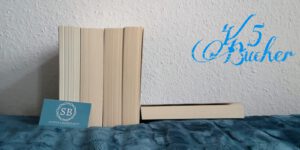 ---
The author:
Ben Alderson is a #1 Amazon bestselling author. His stories are set in fantasy worlds filled with magic, adventure and MM romance. Ben lives in Oxfordshire and, when not writing, can be found reading, taking Winston – his Labrador – out for long walks, or obsessing over Marvel's The Scarlet Witch. Source
The reader:
Ewan Goddard is an actor, singer, and voice over artist. Find more information