A young woman named Amanda lies dying in a rural hospital clinic. A boy named David sits beside her. She's not his mother. He's not her child. Together, they tell a haunting story of broken souls, toxins, and the power and desperation of family.
Fever Dream is a nightmare come to life, a ghost story for the real world, a love story and a cautionary tale. One of the freshest new voices to come out of the Spanish language and translated into English for the first time, Samanta Schweblin creates an aura of strange psychological menace and otherworldly reality in this absorbing, unsettling, taut novel.

Source, Buy (AD)
My book club's latest pick
I would have never picked up this book on my own. Unfortunately, I cannot say that I am glad to have been voluntarily forced to read it. When one of my fellow book-clubbers suggested this book, we found it an appealing pick for October. However, the horror passed me by while reading. If you read this book in one sitting, which is doable due to its shortness, you might get involved. But as I got distracted and prolonged the read over several days, I even had trouble getting back into the story every time after pausing. I surely read one quarter of the book in one go, but I never felt completely hooked.
The book is supposed to mirror a dream, if not even a nightmare.
I get what is meant by that and felt the awkward confusion as when describing your dreams to another person. Some things affected you while dreaming but suddenly seem removed and discontinuous. Amanda's story felt like that. I had also some trouble getting into the story in the first place: The narrator is in a conversation with a boy who is nonetheless quite eloquent and harsh in his speech. Additionally, talk of worms, illness, and body changes do not quite fit with the overall report of ordinariness but for another woman's weird, fantasized talk.
The thing that could indeed get me engaged with the story…
is our protagonist's deep affection for her daughter and her aim to keep her safe at any time. The safety distance was a recurring theme that, in my opinion, reflected parents' inability to keep their children safe at any time despite their intense efforts. Nonetheless, the book did not settle with such an ordinary message. It instead used this discourse to create a plot twist at the very end of the story. It might keep readers thinking about the book. I overall liked the weird, confused style of the book. It made both speakers in the dialogue, that is the book, appear disconnected from the rational, physical world. In that far, the book really models a fever dream.
In conclusion
If I had found something in it to really intrigue me, I would further engage with the weird style of the book and the many questions still unanswered after its end. Besides the mother/daughter dynamic, the book offered at once realistic and fantastic plot twists and an unreliable narrator that might really create a nightmarish experience for readers. For me… not so much.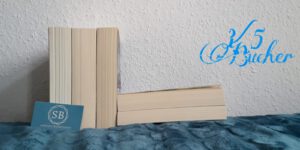 ---
The author:
Samanta Schweblin was chosen as one of the 22 best writers in Spanish under the age of 35 by Granta. She is the author of three story collections that have won numerous awards, including the prestigious Juan Rulfo Story Prize, and been translated into 20 languages. Fever Dream is her first novel and is longlisted for the Man Booker International Prize. Originally from Buenos Aires, she lives in Berlin. Q