In 2008, In the Heights, a new musical from up-and-coming young artists, electrified Broadway. The show's vibrant mix of Latin music and hip-hop captured life in Washington Heights, the Latino neighborhood in upper Manhattan. It won four Tony Awards and became an international hit, delighting audiences around the world. For the film version, director Jon M. Chu (Crazy Rich Asians) brought the story home, filming its spectacular dance numbers on location in Washington Heights. That's where Usnavi, Nina, and their neighbors chase their dreams and ask a universal question: Where do I belong?

In the Heights: Finding Home reunites Miranda with Jeremy McCarter, co-author of Hamilton: The Revolution, and Quiara Alegría Hudes, the Pulitzer Prize–winning librettist of the Broadway musical and screenwriter of the film. They do more than trace the making of an unlikely Broadway smash and a major motion picture: They give readers an intimate look at the decades-long creative life of In the Heights.

Like Hamilton: The Revolution, the book offers untold stories, perceptive essays, and the lyrics to Miranda's songs—complete with his funny, heartfelt annotations. It also features newly commissioned portraits and never-before-seen photos from backstage, the movie set, and productions around the world.
In the what?
I wasn't familiar with In the Heights as first, too. My initial contact with its main creator Lin-Manuel Miranda was similar to most people's introduction to him. As the guy from Hamilton, he got famous all around the world. But Hamilton was not his first Tony Award-winning musical. Several years before, he had a production with a similar bunch of people, that is comparably much fun to watch and listen to. I loved learning more about its very first spark until its off-Broadway production and all the fame following.
Although Hamilton was praised for being revolutionary, this musical was so even earlier on. In the Heights combines several genres of music, but also mixes a wonderful diversity of characters on stage. Set in Washington Heights in our time, the musical tells the story of foremost second-generation immigrants trying to make a home for themselves. They struggle with prejudices, they long for their idealized home in Latin America. They mourn, they dance, they feel pride, they love. Even though Usnavi is surely the most famous character from this story. Nevertheless, he's not the only one with an in-depth background and story. I especially adore Nina and Vanessa with their almost contrasting tales.
Nina, everything is easier when you're home


The street's a little kinder when you're home
Can't you see that the day seems clearer
Now that you are here or is it me?


Maybe it's just me…
Lin-Manuel Miranda and his collaborators created a story in which so many people will be able to see themselves, no matter their color of skin, heritage, name, or class. I surely never lived in New York City, I am not Latinx, I have never felt that burden on my shoulders like some of these characters do. But I now the longing for a place I've barely ever been. I recognize the pressure to succeed, the compassion of friends, the love of family and community. And this musical encompasses all these emotions and many more within its amazing score, its fantastic choreographies, and its characters one can surely identify with.
This book, nevertheless, is not solely on the musical itself, but tells the story of community outside of the script. Written by Jeremy McCarter who talked to dozens of the musical's contributors, it leads us through the processes involved from the very first idea to the cinema adaption I dearly love. The whole process took place over about 20 years and shaped not only the individual people involved, but also their relationship to each other.
"In the Heights celebrates the people who choose to stay. It rejoices in the ties that endure among neighbors in the face of gentrification and other, more powerful erasers." (257)
I learned a lot about producing and staging a musical in general and many details about this particular one. These twenty years were filled with joy, but challenges, losses, and gains, developments, and new focusses. I enjoyed everything told, as much as the way it was told. Lin-Manuel gives us remarks on the lyrics and how they were written. Quiara tells about reviving the characters in-between the songs and making changes for the movie adaption. Jeremy interviews and asks people involved for their memories and pieces them together for a heart-warming, inspiring portrayal.
In conclusion
This book takes us behind the scenes from the very first idea in Lin-Manuel Miranda's bedroom until we will soon get to see the musical's adaption on screen in our favorite cinema. As a fan of In the Heights, I loved to discover not only the production process with all its challenges, but also the community it formed. Jeremy Carter writes attentively and cohensive, but not always chronologically which makes for an interesting, catching read. Lin and Quiara add their thoughts on the adaption, the lyrics, and the time they spent with this amazing story during the last twenty years. Emotional, inspiring, and entertaining – just like the musical itself.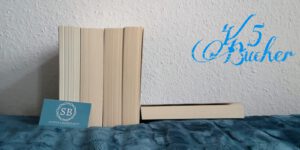 ---
The contributors
Lin-Manuel Miranda, (born January 16, 1980, New York, New York, U.S.), American actor, composer, lyricist, and writer who created and starred in stage productions that blended modern musical forms with classic musical theatre. Perhaps his best-known work was Hamilton, a hip-hop musical about Alexander Hamilton. Source

Quiara Alegría Hudes is a West-Philly-born-and-bred language grrrl. Her critically-acclaimed memoir My Broken Language was recently the Free Library's One Book One Philadelphia citywide read. Her Pulitzer Prize-winning play Water by the Spoonful, and Pulitzer finalist play Elliot, A Soldier's Fugue explore the diasporican community in Philly and beyond. For the screen, Hudes adapted her Tony Award-winning Broadway musical In the Heights into a major motion picture and wrote Vivo, an animated feature, both with collaborator/composer Lin-Manuel Miranda. Source

​Jeremy McCarter is a writer and producer. He is the founder and executive producer of Make-Believe Association, a nonprofit audio production company. Source