Ben has been baking his mother's cinnamon rolls at the family café for years. He's been quietly in love with Adam Reed, his musician-slash-mechanic neighbor, for just as long. But Ben's done waiting behind the pastry case. Despite his fear of failure, he's entered a make-or-break competition to build his recipes into a national brand. He's going to take charge of his business instead of nearly tanking the café—again. And he's going to finally confess his feelings for Adam. ON LIVE TV.

Except his big plans get punched down before they even half-rise. Soon Ben is dashing down the coast to his grandma's 80th birthday party on the beach, hiding his broken heart in Maywell Bay, California. Sun, sea, and fresh breezes should blow in something new—except they don't. They blow in Adam Reed, grinning like a pirate and stealing the show as the musical entertainment hired by Grandma for her big bash. Grandma's signature Heartbreak Tea is the only remedy, and Grandma's tea could take the paint off a fence.

But there's a burn of truth along with the booze in his bottle, and Ben has a decision to make. Can he take the sweetness in front of him, and brave the bitterness that comes after? Or is a little sea salt just what this cinnamon roll needs?
The way to my heart is certainly through the stomach.
At least my stomach and my heart were fully involved when I decided on requesting and reading this book. I suddenly felt a strong compassion for the protagonist baker overwhelmed by not only an upcoming TV show but his unrequited love for a want-to-be rockstar. Nena Tramoutani recently evoked my love for protagonists employed in any kind of kitchen, while S.C. Stephens made me grave rockstar romances years ago. This combination (plus a pinch of queerness) was a sure catch for me. Delving into the first chapters, I was immediately involved with Ben's emotional, chaotic encounters with the cameras and his love interest. Courtney Kae playfully and humorously got us engaged with his friends, his business, and his fears.
This romcom is fun but seems forced from time to time.
Which is not ultimately a bad thing. Romcoms live from these moments in which you think: Of course, that was about to happen. For example, two weeks are set not only as the time Ben will spend at his grandmother's place but also for him to create some positive PR to stay in the baking contest. I enjoyed things coming together as Ben is unable to escape his embarrassing moment with Adam.
Nonetheless, the romcom was too much for my taste when it heavily drew on miscommunication. Ben is that afraid of being rejected and not good enough that he simply cuts Adam off before he even has the chance to speak the truth. Thus, they get into this web of misunderstandings for the first part of the book. I totally understand when people are thrown off by that as I was inclined to be as well. Nevertheless, I was certain there was more to come and was proven right.
Finding another and oneself.
No one is surprised by the developments between Ben and Adam. Nonetheless, the book does not resolve their eventually revealed feelings to an immediate happy ending. Looking at the number of pages left afterwards, I was sure to be confronted with another drama. And I was certainly glad that this one wasn't one of miscommunication but rather an inner struggle to be fought. Of course, there were external problems as well. But Ben foremostly needed to find his way out of his self-destructive/-dismissing, persistent thoughts shaped by his childhood experiences of neglect.
I loved this dive into his past, as much as the moving (and hilarious) moments with his family in the present. Adam and Ben's open and gentle communication (after the difficult start) was heartwarming and joyful to read. Ben's found friends offered  little but truthful support when needed and excited me enough to look into the first Fern Falls installment.
In Conclusion
A (supposedly unrequited) friends to lovers story about a baker, a rockstar, a TV show, a hip grandma and a lot of family complexes. This mixture worked out pretty well for Courtney Kae's next publication. I hope you give this cheerful (but emotional as well) read a chance. If you're really allergique to miscommunication, then simply be careful in the first half of the book.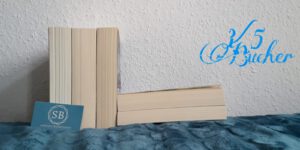 ---
The author:
Courtney Kae (she/they) is the author of sweet and steamy romance novels that give her queer little heart great joy. She lives in Southern California with her family, cats, and dehydrated houseplants. Find her on Instagram, Twitter, and TikTok at @court_kae and online at CourtneyKaeBooks.com. Source