Ever since Cass almost drowned (okay, she did drown, but she doesn't like to think about it), she can pull back the Veil that separates the living from the dead . . . and enter the world of spirits. Her best friend is even a ghost.So things are already pretty strange. But they're about to get much stranger.When Cass's parents start hosting a TV show about the world's most haunted places, the family heads off to Edinburgh, Scotland. Here, graveyards, castles, and secret passageways teem with restless phantoms. And when Cass meets a girl who shares her "gift," she realizes how much she still has to learn about the Veil — and herself. And she'll have to learn fast. The city of ghosts is more dangerous than she ever imagined.

Source, Buy (AD)
Victoria Schwab addresses a younger audience.
I have got to know this author from another trilogy of hers that contains three more expansive books. I'd also say that Shades of Magic (Book 1, 2, 3), published under her pseudonym V. E. Schwab, is more suspenseful and dealing with deeper themes like loss, death, and murder. Even more so, her Villains series (Book 1, Book 0.5 + 2), dig into the heads of some (anti-)heroes and let us in on all their abysses. I enjoyed all of her stories so far and was excited to get into this Young Adult book dealing with death in a less morbid way.
The setting brings back amazing memories
I initially chose to read this book because it is set in a beloved city of mine. After spending half a year in Edinburgh, I knew all the places that our protagonist explores. Cassidy is taken there by her parents who shoot a TV show about ghosts. But compared to Cassidy, they are not able to actually see ghosts and even cross into their realm. Victoria Schwab's fascination with near-death experiences sets another great story in motion within this series' beginning. Moreover, she gives us an extremely moving and fascinating friendship between our protagonist and a ghost to be explored further in the next books.
I mean, can someone really die if they don't end up dead? Are they really alive if they come back?
– page 26
Although quite brief compared to her other books, Cassidy's story does not fall short. She's suspenseful, entertaining, hilarious, moving, and prompts enough questions so that we immediately want to keep reading. I loved to be stuck in Cassidy's head for these hours and to discover the world through her eyes. The only muddle experienced on my side is the usage of American and British English words. Out protagonist starts out by making jokes about some of them, as she is confronted by British 'flats' and 'chips' as an American herself. Shortly after, she seemingly has incorporated these words just find instead of continuously referring to her accommodation as an apartment. This might be due to the author's Scottish heritage and surely did not bother me too much. Otherwise, Victoria Schwab's language use, especially her homages to the Scottish dialect, were delightful and suitable for a middle grade book.
In conclusion
This series addresses a younger audience than other books I've previously experienced by the author. It was, nonetheless, equally enjoyable, and fascinating. Common themes of ghosts and near-death experiences lured me in once more. Cassidy and her friendship to Jacob is heartwarming and repeatedly brings joy to this haunted tale.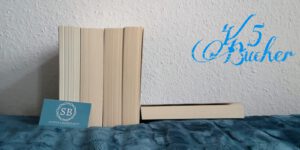 ---
The author:
V.E. Schwab is the author of more than 20 books for children, teens, and adults. Alternate spelling of Victoria Schwab. Source